711 Manual Clipper Machine,Manual Sausage Clipping Machine,Semi-Automatic Pneumatic Clipper,whole chicken clipper machine
Manual Sausage Clipping Machine
Semi-Automatic Pneumatic Clipper
Dedicated to the supermarket, packing speed, inexpensive
Product Description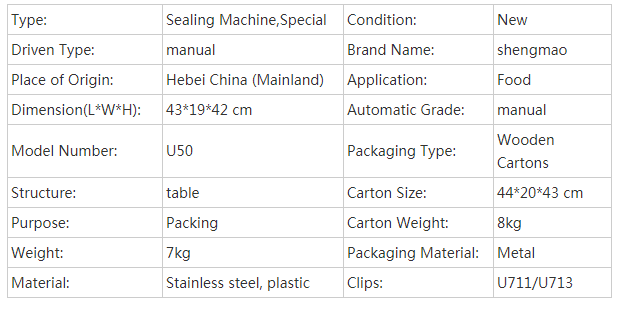 1. the 711 manual clipper can be used for fruit packing and bag packing, commonly used in the supermarket bulk area, garlic packaging seal. 711 Manual Clipper Machine
2. Strong, durable, beautiful, but also ease the supermarket plastic tape sealing slow, poor sealing, contamination of food. In our country's supermarkets have been widely used 711 manual clipper machine.
3. home-made sausage is also very easy to use, to ease the manual seal leak problem.
4. We also have the clips to match the machine, the clips size is U711,U713 .
5. We have for many years now been developing trade and industry packaging solutions using the clip and clipper. Our type of packaging is suitable for the widest range of applications – sausage, poultry, food or non-Food.
6. If you have any questions need advice, please contact us